Due to the current covid-19 regulations, our shop is currently restricted to 1 customer at a time. Face masks are required.
Curb-side pick up is also available, please call ahead with your order and we will have it ready for storefront pick-up. Payment available over phone or on site.
*Prices subject to change due to pandemic situations.
We have a large selection of bird feeders and bird seeds. Everything you need for backyard bird feeding and viewing.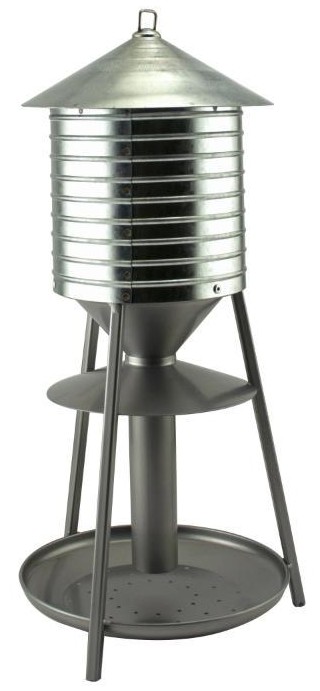 Rustic Water Tower Feeder
Order #28719 – $49.95
Galvanized seed tray bird feeder. Holds 2.5 lbs of seed.

Copper Meadow Bird Feeder
Order # 570 – $28.95
Metal casing for extra protection. 8 feeding stations, holds up to 4lbs of seed.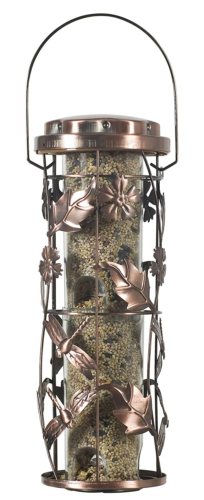 Copper Garden Bird Feeder
Order #550 – $22.95
Metal outside casing. 6 feeding stations. Holds up to 1lb of seed.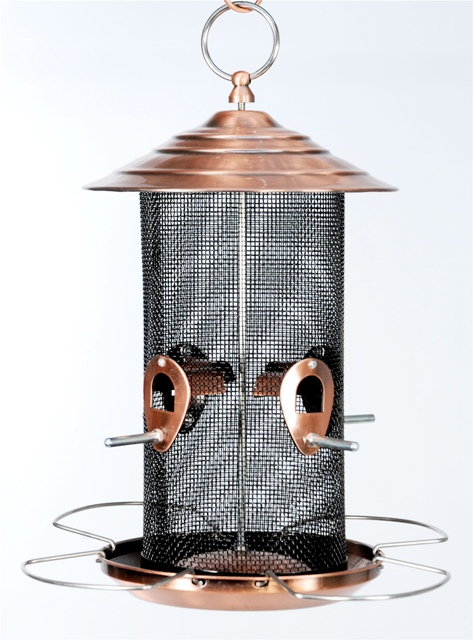 Brushed Copper Bird Feeder
Order #NABCN – $44.95
Powder coated steel mesh with removable perches. Holds up to 3 lbs of seed.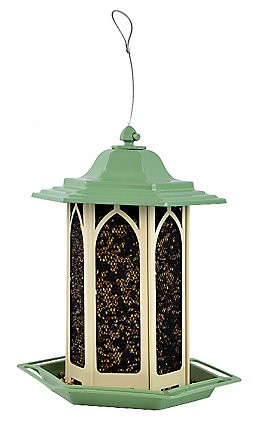 Order #GAZ01 – $36.95
Mesh Gazebo Bird Feeder with locking cap and metal structure to keep squirrels out. Holds up to 3.5 lbs of seed.
SOLD OUT
$35.90
Vintage style, all metal milk can bird feeder. Holds up to 5 lbs of seed. Drain holes to keep seed dry.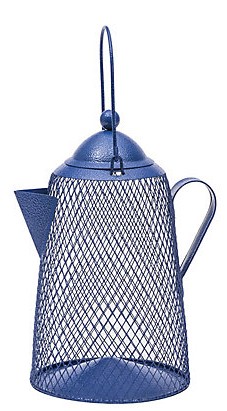 Campfire Coffee Pot Feeder
$23.40
Campfire Coffee Pot made of durable metal, holds up to 2 lbs of seed. Large mesh allows multiple birds to feed at once.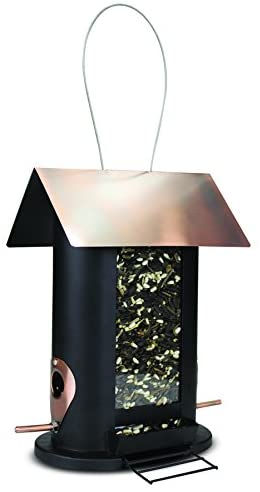 Order #10032 – $24.95
Four-sided feeder to bird watch from all angles. Cardinal friendly with sturdy metal construction.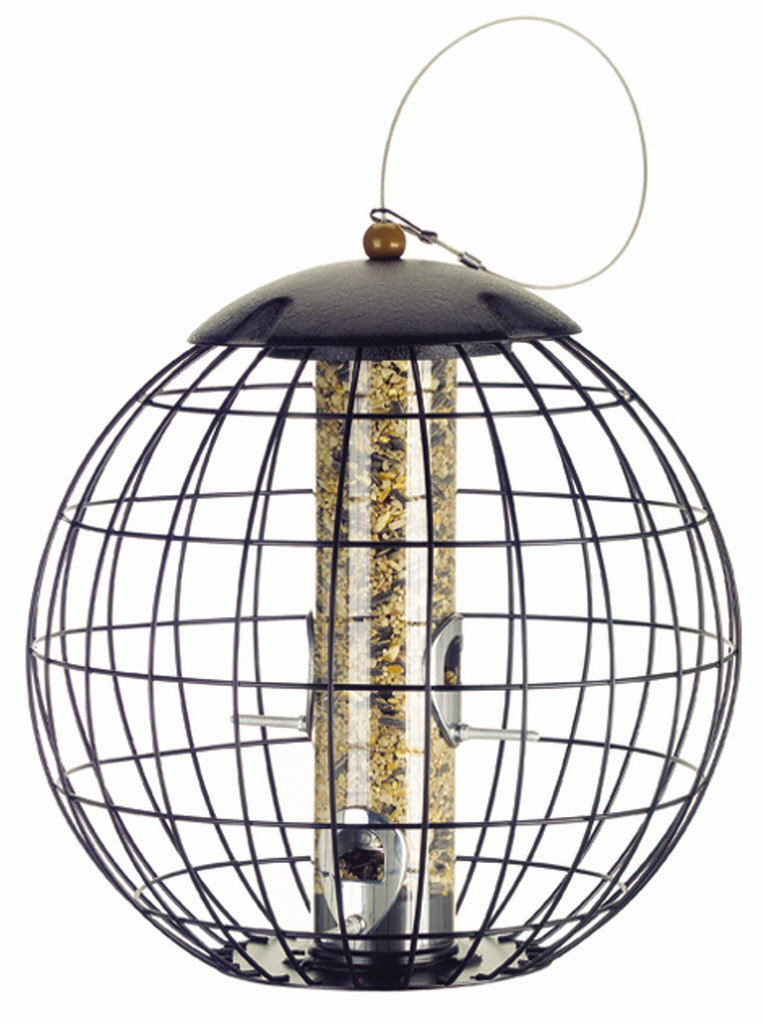 Order #10387 – $26.85
Blocking cage helps prevent access to squirrels and large birds. Easy refill. Durable metal, weather resistant.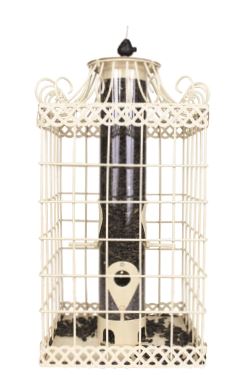 Decorative Squirrel Resistant
Order #10382 – $38.95
Antique styling. Decorative squared cage resists squirrels and large birds. Holds 1lb of seed. Weather resistant finish.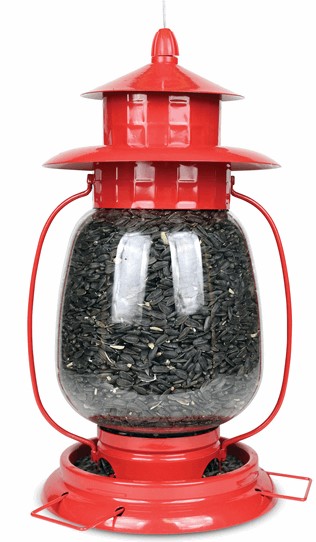 Order #10055 – $51.95
Made of metal and glass. Cardinal friendly perch design. Loosen cap and lift roof for easy filling. Holds 2.7 lbs of seed.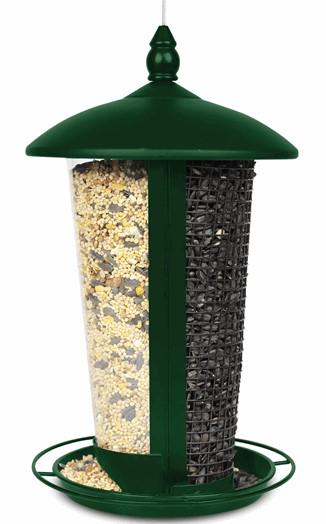 Order #10089 – $25.95
Dual purpose metal bird feeder for more diverse feeding with solid and mesh option. Sturdy perch for all bird types.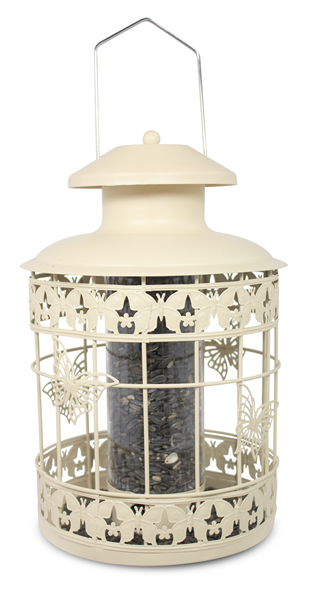 Cream Squirrel Resistant Feeder
Order #10380 – $34.95
Decorative squirrel resistant bird feeder in cream. Metal construction, holds up to 0.75 lbs of seed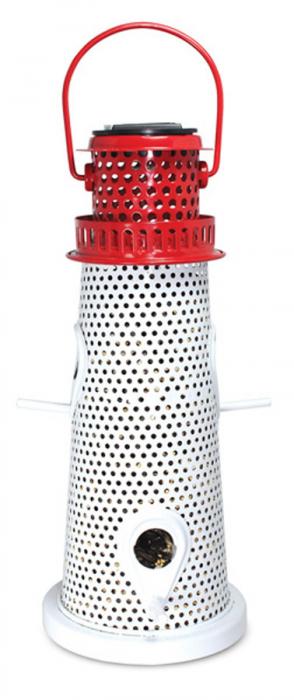 Order #10756 – $31.95
 4 perches and metal mesh design. Built in Solar light comes with On/Off switch, and Light Sensor. Twist off red cap for easy filling.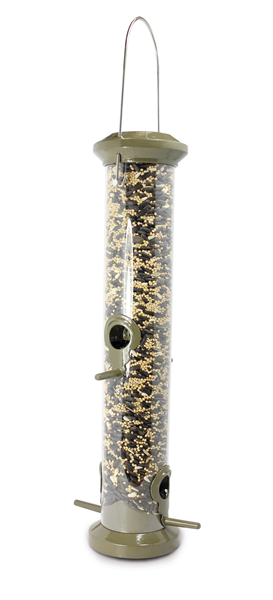 Order #10805 – $27.99
Powder coated die cast aluminum. Disassembles for easy cleaning. 3/4″ thread for pole mounting. UV stabilized polycarbonate tube. 3/4″ thread for pole mounting.

Order #10860 – $17.45
Light weight poly carbonate bird feeder for mixed seed. 3/4″ thread for pole mounting. Holds 1.05 lbs of seed.

Order #10826 – $38.95
30″ Nyjer seed feeder designed to attract Finches. Powder coated die cast aluminum, 3/4″ thread for pole mounting.

Order #424A – $47.95
High Quality Aspects bird seed tube. 4 feeding stations, holds up to 1 1/4 qt of seed. Easy clean UV stabalized polycarbonate.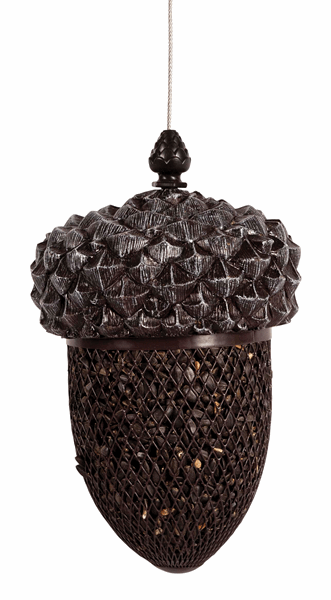 Order #10072 – $14.95
360 degree feeding allows more birds to feast simultaneously. Holds 0.6 lbs of seed. Pinch tab on acorn hanger and lift to open.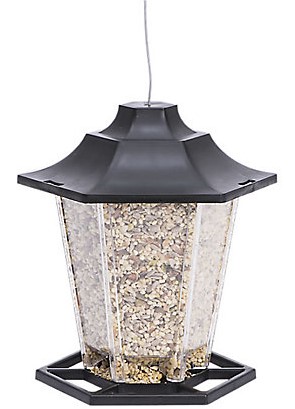 Order #HF92-GAZF – $9.25
Constructed with durable acrylic. 360 degrees feeding base. Holds up to 1.5 lbs of seed.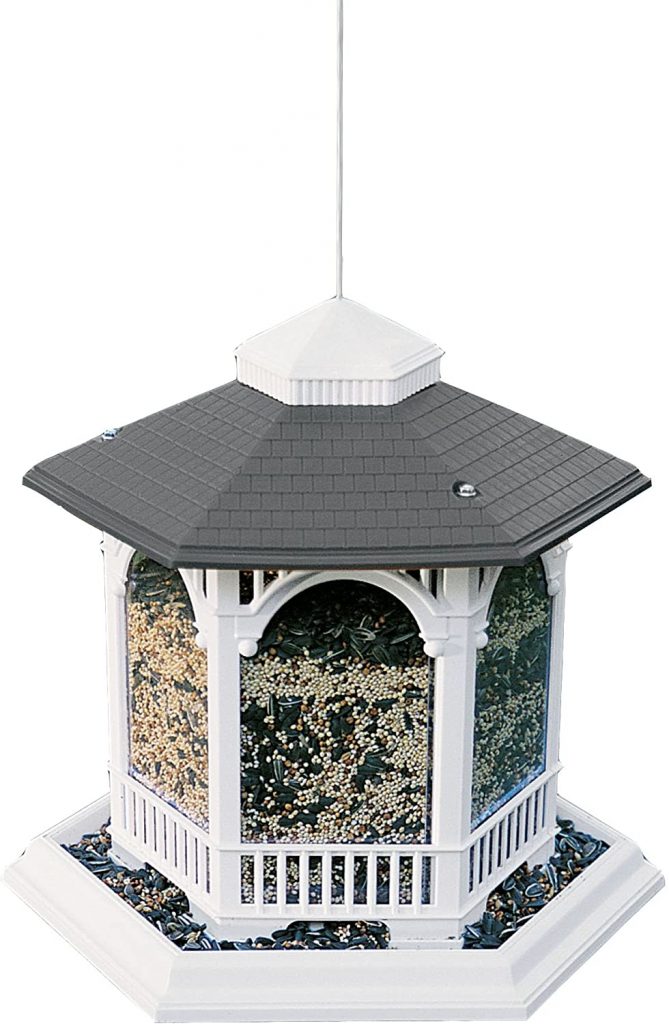 Order #NA6262 – $36.95
Deluxe Gazebo Feeder for a variety of backyard birds. Beautiful design, it holds up to 10 lbs of seed.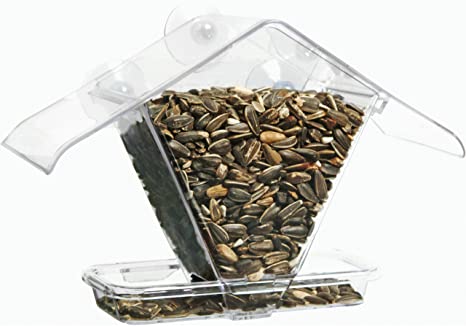 Order #155 – $28.90
Window Cafe feeder is perfect for up-close viewing. 3/4 qt capacity. Easy to clean and fill.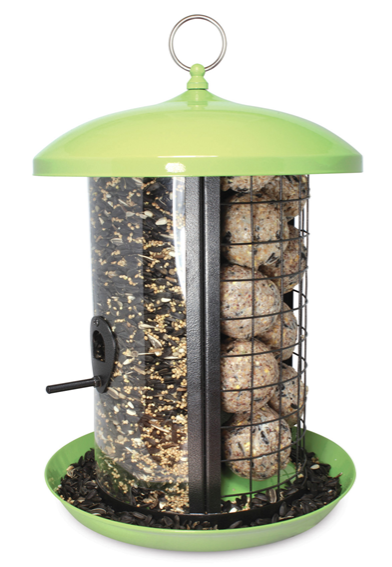 Order #10110 – $43.95
Dome roof to help keep seed dry. Drainage holes help keep seed fresh. Quick release lid. 3 sections: suet balls, mixed seed, & blackoil / peanut. Sturdy metal construction.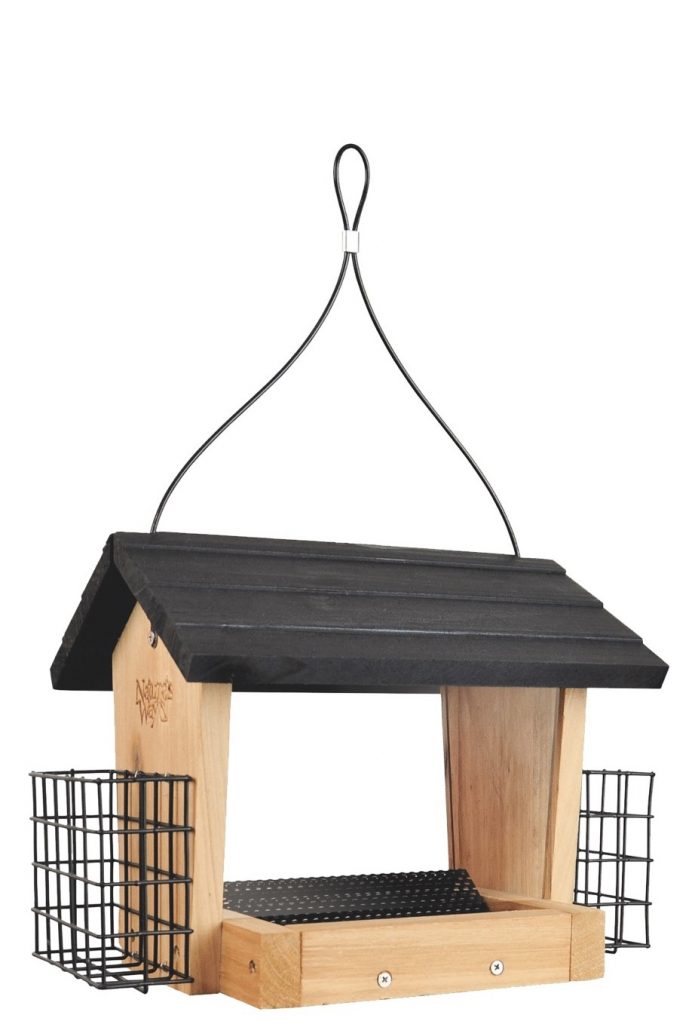 Order #71004 – $37.85
Ideal for a large variety of wild birds. Holds bird seed and suet blocks.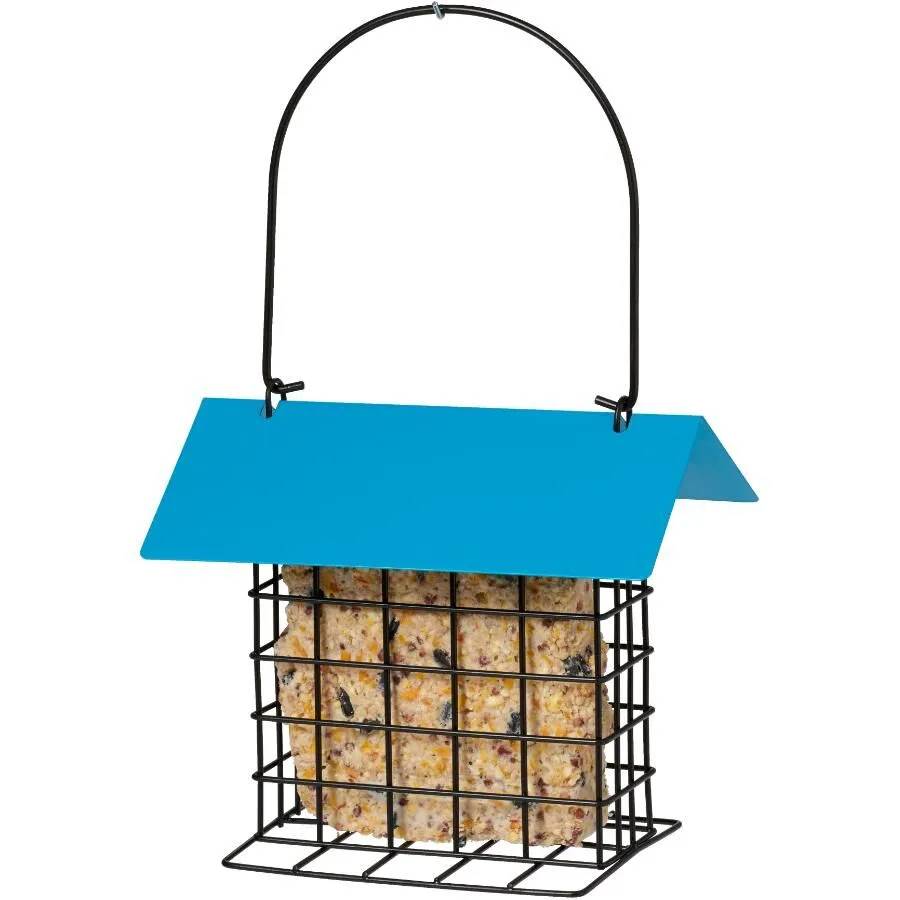 Order #07492 – $14.59
Covered Suet feeder provides 360 degree feeding, weather resistant finish, easy to fill design.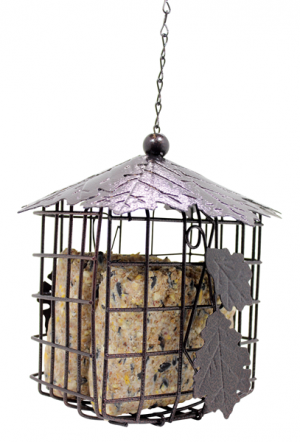 Bronze Leaf Suet Block Cage
Order #10363 – $10.85
Side hinges open for easy filling. Heavy duty metal construction. Holds 2 suet cakes, or 4 suet balls, or nesting materials. Metal chain hanger.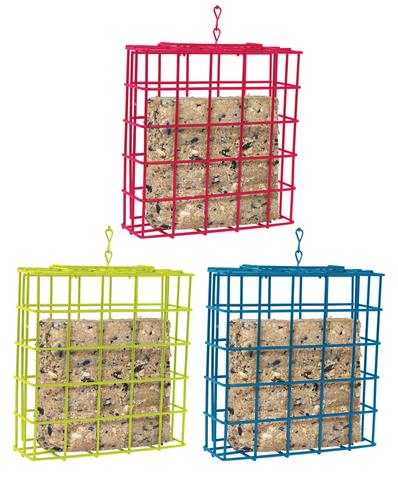 Coloured Suet Cake Holders
Order #07480-5 – $4.85
Multi-colour varieties. Holds 1 suet cake, perfect for year round feeding. Wire cage is easy to fill and easy for birds to grip.

Cylinder Suet Ball Feeder
Order #10362 – $8.95
Sturdy metal construction. 37cm tall. Threaded base for pole mounting or use with a seed catching tray.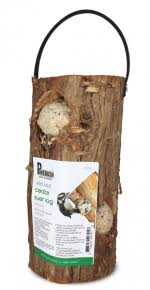 Order #40301 – $21.35
Ideal for year round feeding. Made in Canada. Includes 4 suet balls. Easily refillable with suet balls.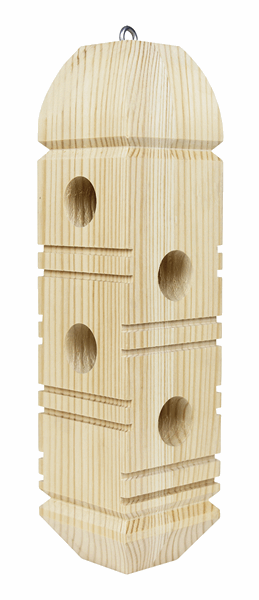 Order #71000 – $16.50
Wooden suet plug feeder holds 4 suet plugs. Built in grooves to allow birds to easily cling while feeding. Sturdy pine construction.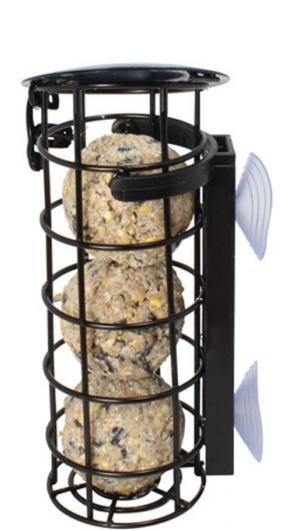 Order #07431 – $9.45
Suction cups for exterior window attachment. Holds 3 suet balls. Weather resistant finish.

16" Peanut Pick-Out Feeder
Order #10802 – $22.95
Powder coated die cast aluminum. 3/4″ thread for pole mounting. Holds1.4 lbs of peanuts.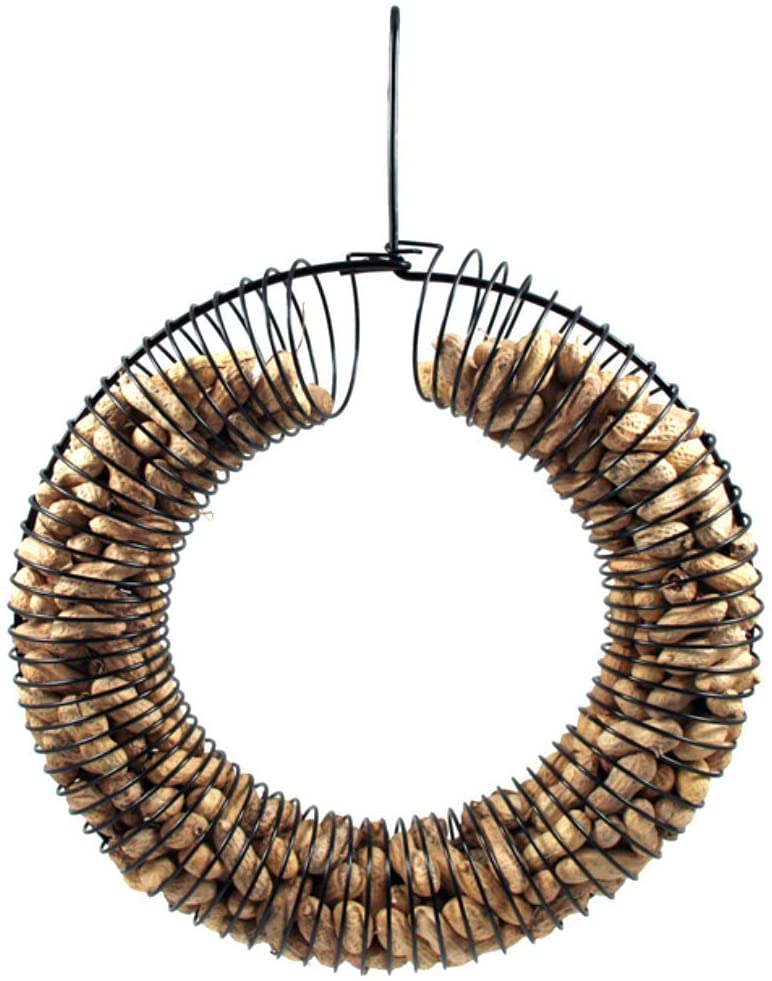 Peanut In-Shell or Suet Wreath
Order #PW – $18.45
Ideal for peanuts and suet balls. Attracts Jays and woopeckers. Year round feeder.
Order #05181 – $4.95
Red or green. Also a great way to provide suet balls, nesting material, and fruit pieces. Ideal for jays and squirrels.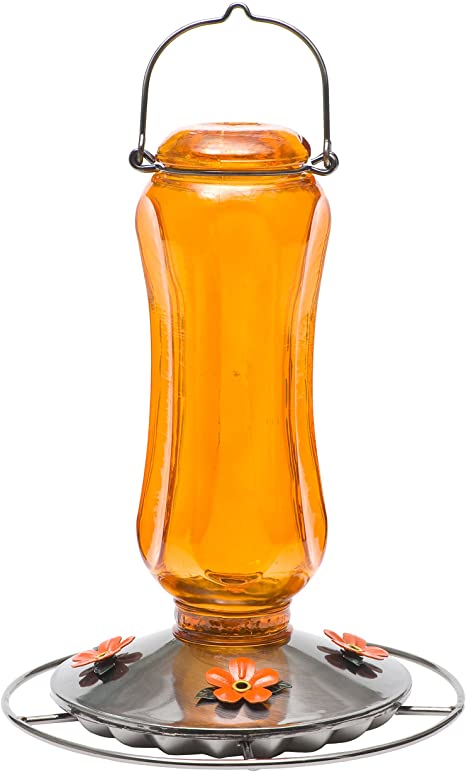 Vintage Glass Oriole Feeder
Order #8135-2 – $26.95
Glass and metal Oriole feeder with 4 feeding ports and a 16 ounce orange glass bottle.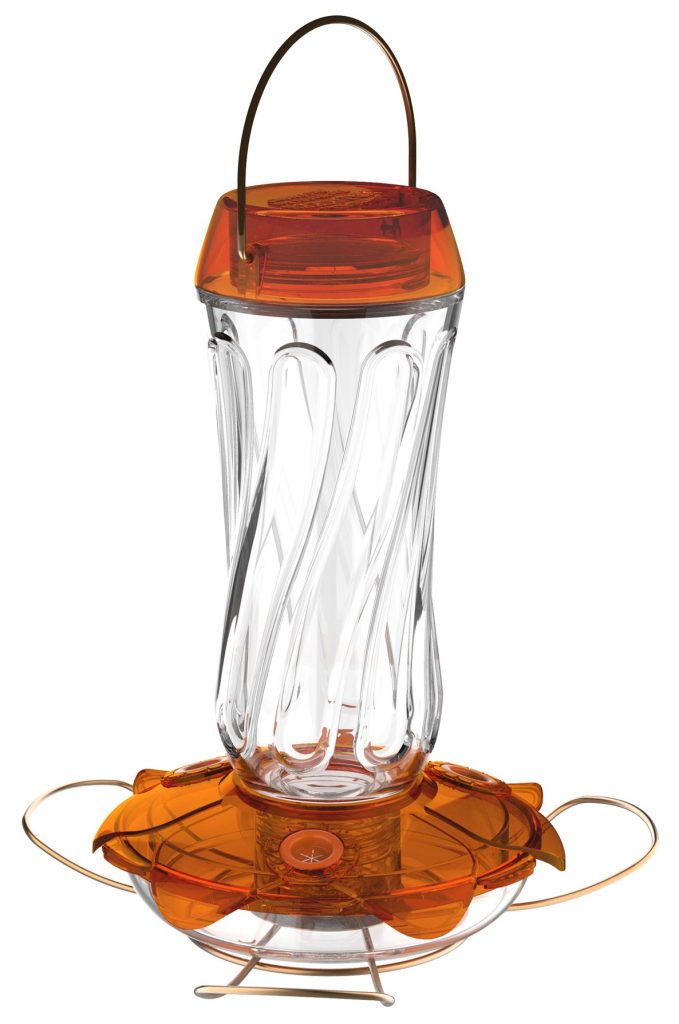 Order #C30B – $28.95
Glass and plastic Oriole feeder with 3 feeding ports. Flexible feeding holes for Orioles and Hummingbirds.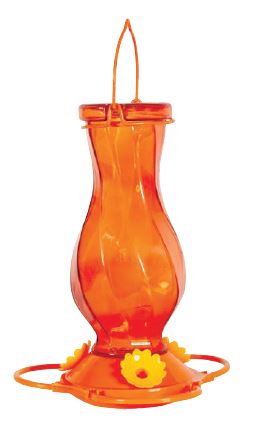 Oriole Orange Twist Feeder
Order #88045 – $26.45
Glass bottle and Plastic base with 3 feeding ports. Vibrant orange colour to attract orioles.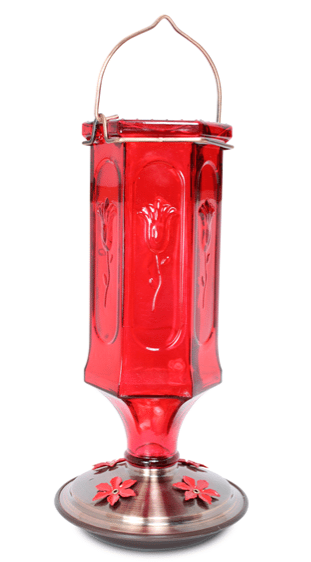 Vintage Glass Hummingbird
Order #88129 – $24.95
Temporarily Sold Out
Glass vintage Hummingbird feeder. Bright red to attract hummingbirds.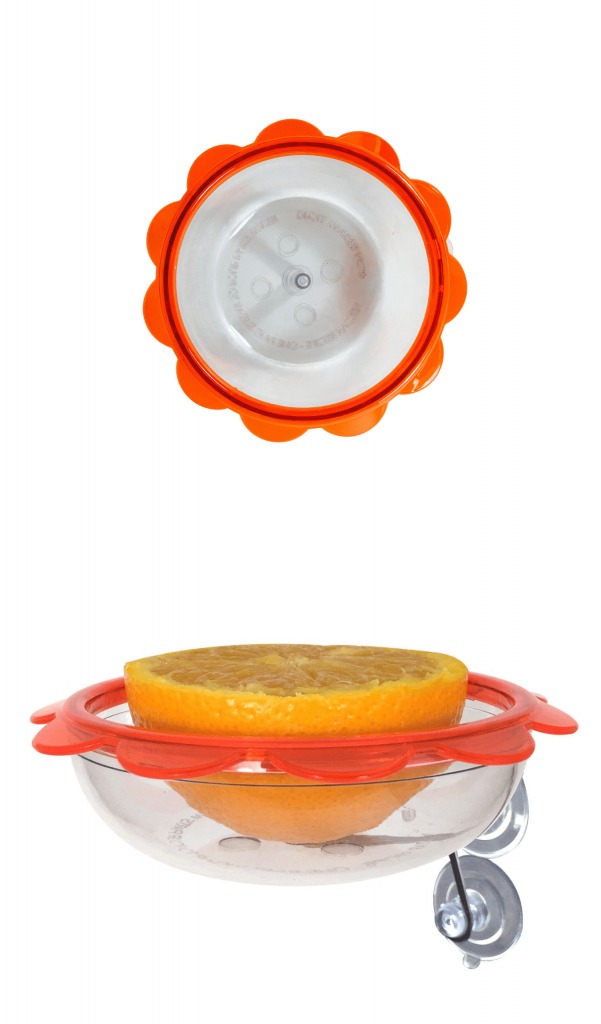 Window Oriole Bird Feeder
Order #BOWM – $16.95
Oriole window feeder that holds orange halves, jelly, marmalade, and mealworms. 5 ounce dish with graspable pedals.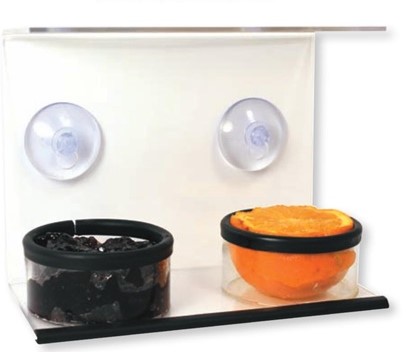 Order #10774 – $14.95
Bring orioles right to your window! Cups for grape jelly and orange halves. Clear acrylic construction. Includes 3 suctions cups for window hanging.
$19.95
Temporarily Sold Out
Oriole jelly feeder has an inverted jelly jar, ensuring that your jelly is kept fresh and covered. Holds 32oz of jelly.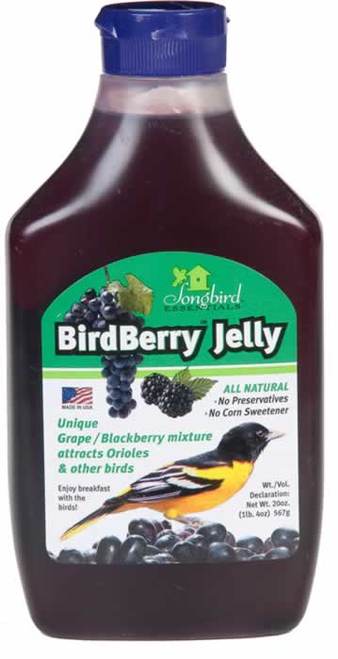 Order #SE6010 – $10.65
Unique grape/ blackberry mixture attracts Orioles and other birds. All natural, no preservatives or corn sweetener. 567g squeeze bottle.
Order #88005 – $13.95
Butterfly feeder wicks draw nectar, small cups hold bananas, jelly, or fruit peices.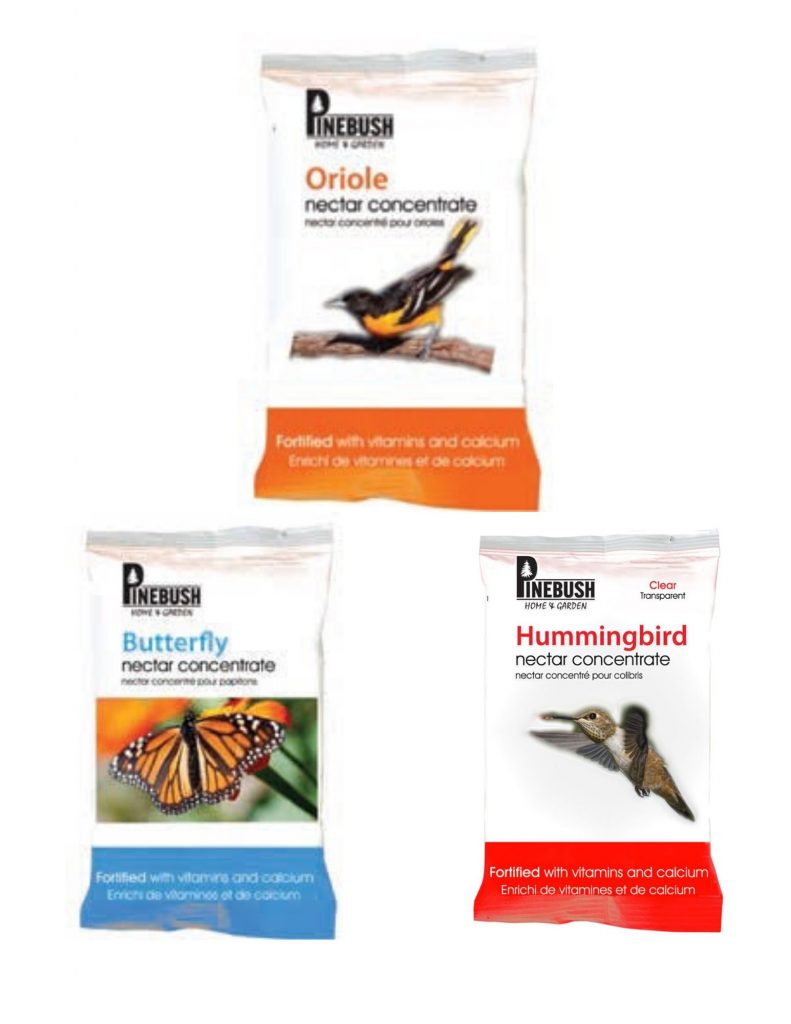 Order #18025 – $3.95
Orioles, Hummingbirds, and Butterflies. Fortified with vitamins and calcium. All natural sugars. Fast dissolving powder. Just add water. Mix 1 part nectar powder to 4 parts water. Only Available in Canada.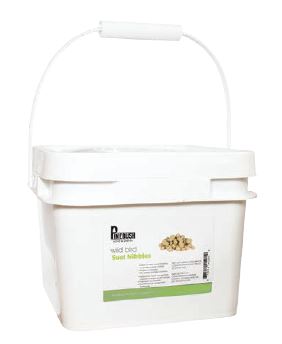 Order #40205 – $26.95
Contains 48 suet balls. Ideal for year round feeding. High energy food source. Formulated with high quality beef kidney fat. Re-usable storage container. Made in Canada.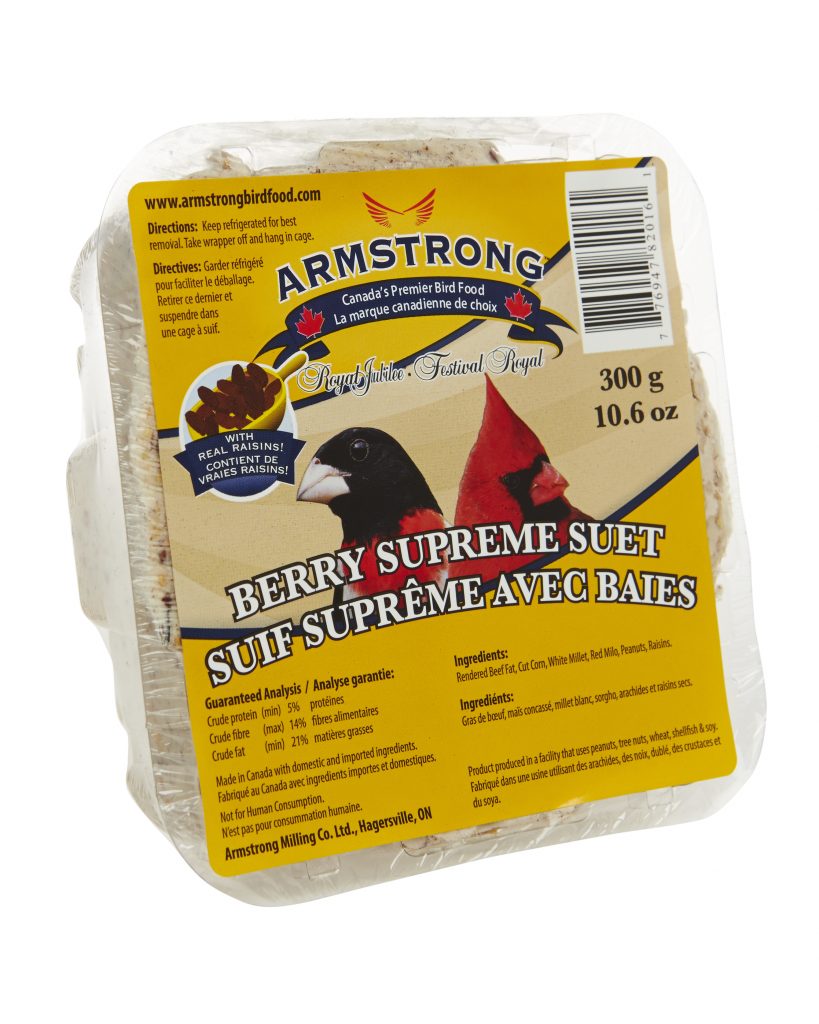 $1.95
A variety of different suet cakes available. Berry n Nut, Sweet Apple, Hot Pepper, Insect, Birders Choice. Availability and choices vary.
Poultry Paradise Bird Nutrient
$27.95
Temporarily Sold Out
A nutritious melody of dried Chubby Mealworms, Green Peas, Oat Groats, Sunflower Chips, Dried Cranberries, Parsley, and Cracked Corn.
$12.95
Easy to grip sock filled with high oil nyjer seed designed to attract finches and other birds, such as chickadees, titmice, nuthatches, and redpolls, to your yard.
Order #PB0116 – $12.95
Filled with dried mealworms, the sock is designed to attract colourful birds such as Chickadees, Blue Birds, Nuthatches, Orioles, and Woodpeckers, to your yard.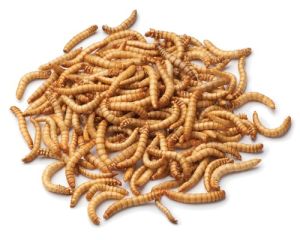 Bulk Mealworms for Feeders
$.95 per oz
Bulk dried mealworms sold by weight. Attracts a variety of song bids.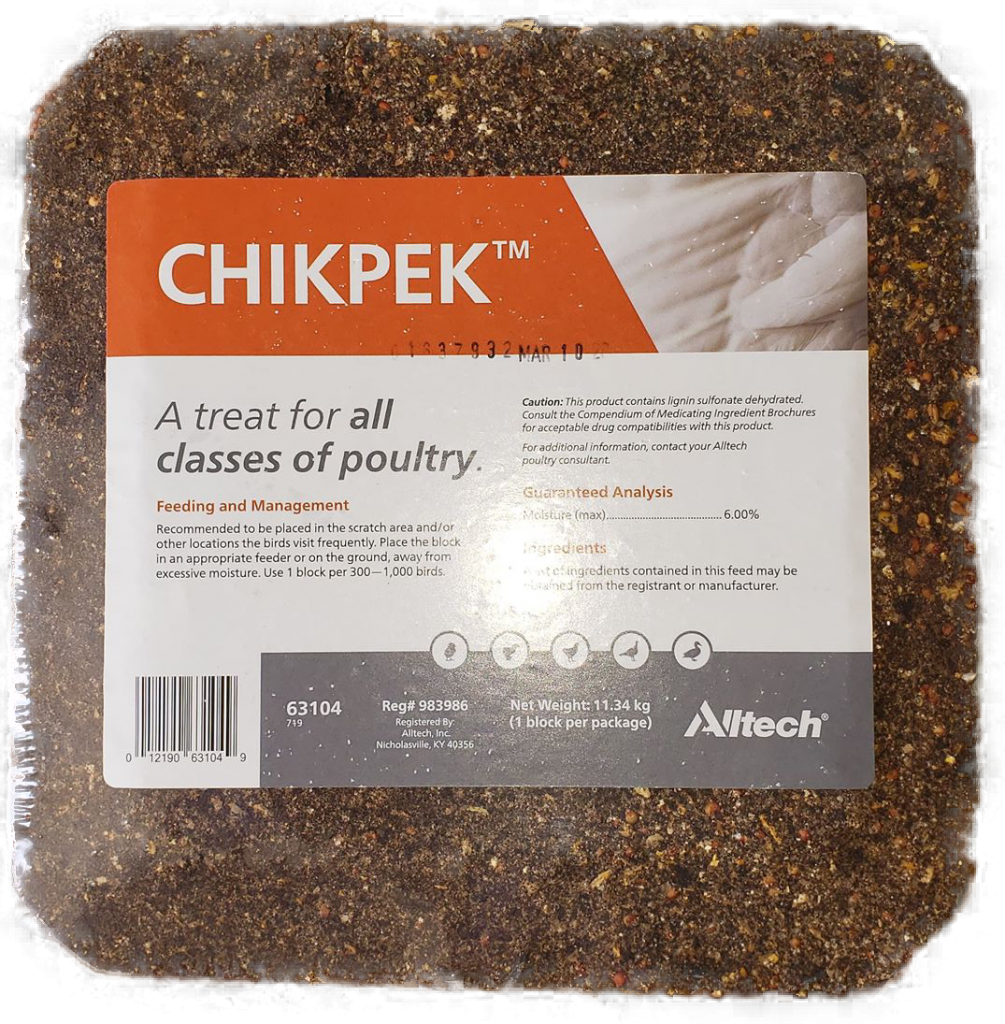 Chikpek Pecking block treat
$25.95
Supplement feed block for all classes of poultry, fowl and game birds.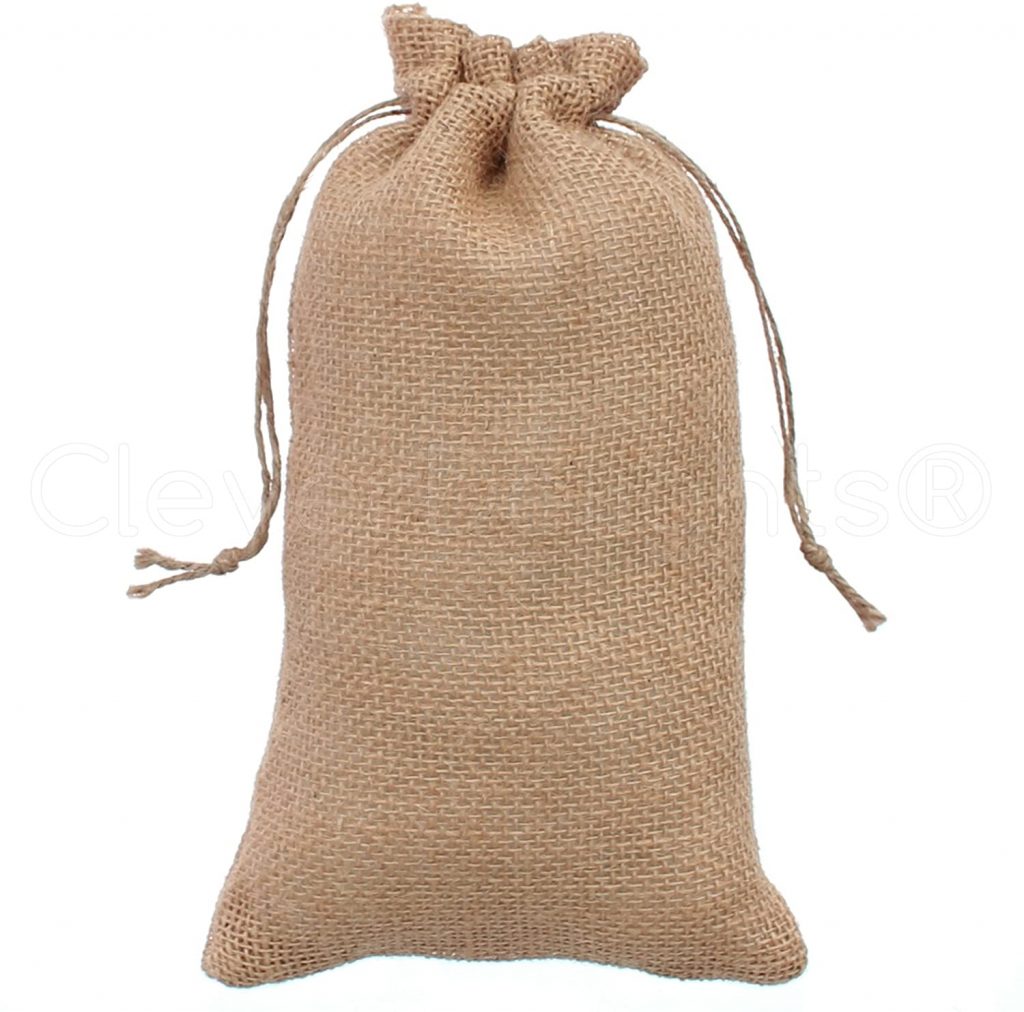 Cedar Point Farms Black Oil Sunflower Seeds
$14.95
Local black oil sunflower seeds from Cedar Point Farm in Tiny Township Ontario. Sold in 9 kg decorative burlap bags.
SOLD OUT
Order #10440 – $26.85
Helps prevent squirrels from accessing your bird feeders.

Adjustable Hanging Device
SOLD OUT
Order #10445 – $11.95
Extends 6″/15cm – 48″/122cm. Holds up to 35 lbs / 16 kg. Ratchet mechanism assists in easily raising or lowering bird feeders, hanging baskets, or other garden items.
Order #10447 – $6.27
Poly hook for hanging bird feeders, floral displays, and decorative items. Holds up to 2.25 kg / 5 lbs. Locking suction cup grips tightly to windows, doors, and mirrors. Extends from 1″/2.5 cm – 4″/10 cm.

Order #BFH – $7.45
23″ for hanging birdfeeders, baskets, planters, wind chimes, etc. off of tree limbs. Holds up to 35 lbs.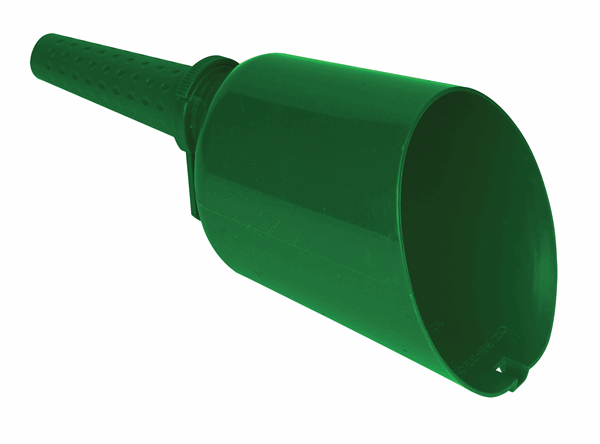 Order #11784 – $5.85
Fill scoop with seed. Hold funnel end over feeder and slide open seed release door. No mess filling!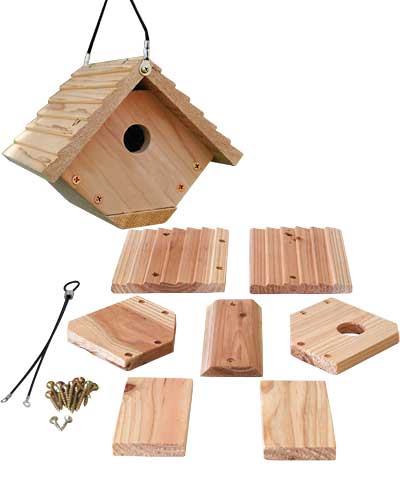 #WRENKIT – $21.95
Great DIY project for children and families. Easy to assemble with just a Philips screwdriver.
#71005 – $21.80
Fun kids project. Includes pre-cut wood structure and screws. Designed to attract cardinals, chickadees, finches, and nuthatches. screwdriver.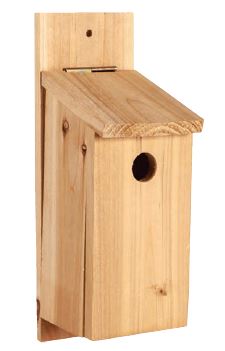 #24410 – $20.99
Assemble your own bird house. Includes pre-cut wood structure and dowels for assembly. Metal hinged roof opens for easy cleaning. Hole size: 1 3/16 inch.  Attracts chickadees, finches, and nuthatches. 
Order #18025 – $7.35
Purple, red, and blue. Durable glass stopper. Hang or place on any flat surface. Full colour display box. Fruit fly enters through base.